Welcome to Day 6 of the official Artisan Winners Blog Hop. You should have just arrived from
Heidi King's blog
. If you didn't, go back and look at her stuff. It's SO amazing! I can't get enough of her projects. Heidi once made the comment that Stampin' Up! owned almost all of her scrapbook pages she's ever created. I am sad to report that I am in the same boat. SU! owns all but 2,

2!

of my scrapbook pages. It's just sad. Well, is it really? I don't scrapbook at all. Maybe I'll start. I don't know. Maybe. We'll see.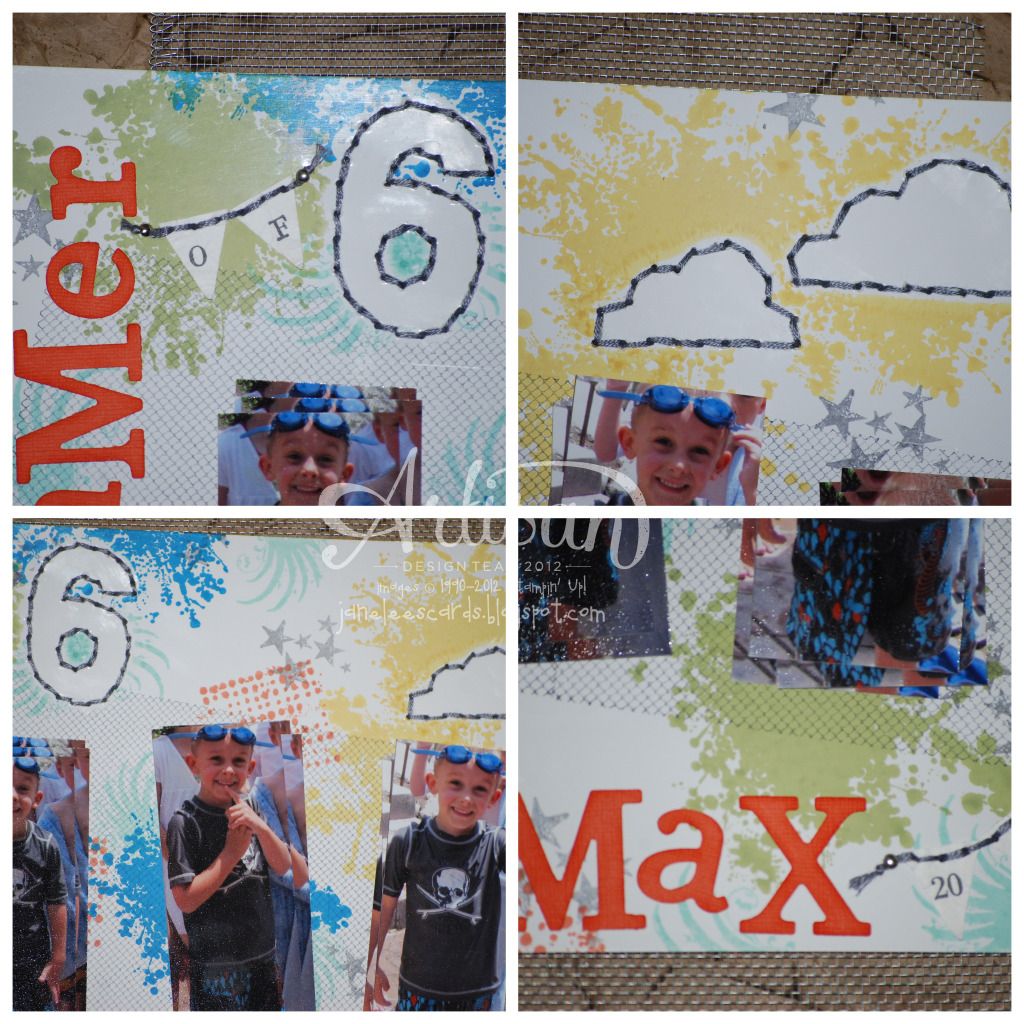 I love love

LOVE

this scrapbook page! My oldest son, Max, is super cute but that's not why I love it so much. It was a labor of love. It took FOREVER to stitch around the six and the clouds but I love how it turned out. I used a "6" and "clouds" from the On Board Merry Medley as a mask and stamped over the top of them to create a negative image effect. I'm quite pleased with how it turned out. You will probably be seeing this technique throughout the year in my other projects.

Calendar Alphabet & Numbers, Extreme Elements, Netting Sets; Whisper White Card Stock; Pacific Point, Tangerine Tango Textured Card Stock; Whisper White Glossy Card Stock; On Board Merry Medley (for masks of the "6" and clouds); Daffodil Delight, Tangerine Tango, Lucky Limeade, Pool Party, Pacific Point, Soft Suede, Basic Gray Classic Stampin' Pads; Petit Pennants Builder Punch; Mini Brads; Big Shot, Timeless Type Alphabet Junior Sizzlits; Paper Piercer, Mat Pack, Sponge Daubers, Snips, Sticky Strip, Dimensionals, SNAIL
Extras: Packing paper from SU! box, screen scraps, embroidery floss (yeah, I'm big into up-cycling)
Stay tuned for more scrapbook pages!! Moving right along... Click the link below to head over to
Jeanna Bohanon's blog
.
Order everything from my site {HERE}
naptimestamper@gmail.com